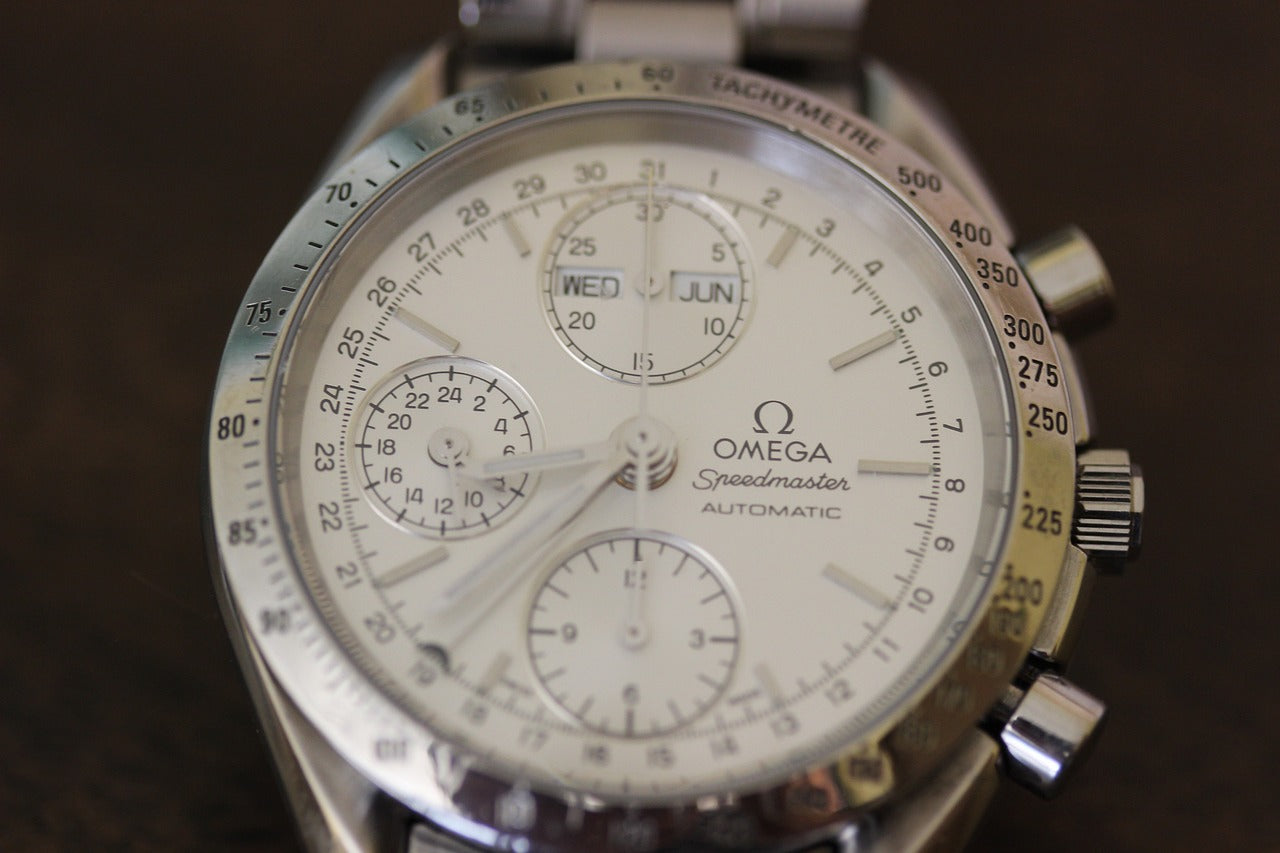 Omega Watch Winder
Back to Barrington Watch Winders Blog
Barrington Watch Winders ensuring perfect precision for your Omega watches
Omega watches have long been revered for their exceptional craftsmanship and precision timekeeping. From the iconic Omega Speedmaster and Aqua Terra to the legendary Seamaster Professional worn by James Bond, these automatic watches are cherished by watch enthusiasts worldwide.
To ensure that your Omega timepieces are always ready to wear with precise accuracy, investing in a high-quality watch winder is essential. In this blog, we will explore the significance of watch winders for Omega watches, specifically focusing on the exceptional offerings provided by us here at Barrington Watch Winders.
Popular Omega Automatic Watches
Omega Speed Master: A Legend in Timekeeping
The Omega Speedmaster is synonymous with precision, durability, and iconic design. Known as the first watch worn on the moon, the Speedmaster has captured the hearts of watch collectors and space enthusiasts alike. To preserve the accuracy and longevity of your Speedmaster, a watch winder is a must-have accessory. Barrington Watch Winders offers a range of watch winders specifically designed to cater to the needs of Omega Speedmaster owners.
Aqua Terra: Timeless Elegance with Optimal Performance
For those who appreciate the perfect blend of elegance and functionality, the Omega Aqua Terra collection is a true masterpiece. With its refined aesthetics and exceptional precision, the Aqua Terra is a favourite among watch aficionados. To maintain the smooth functioning of the intricate automatic movement in Aqua Terra watches, a watch winder is indispensable. Barrington Watch Winders offers carefully engineered watch winders that mimic the natural motion of the wrist, ensuring that your Aqua Terra remains in perfect working order.
Seamaster Professional: Channelling the Spirit of James Bond
The Omega Seamaster Professional is a legendary timepiece that exudes sophistication and reliability. It has garnered a prominent place in popular culture, largely due to its association with the iconic character James Bond. As a watch that withstands extreme conditions and delivers exceptional accuracy, the Seamaster Professional requires proper care and maintenance. A Barrington Watch Winder offers the perfect solution to keep your Seamaster Professional wound and ready for action at all times.
The Importance of Watch Winders
Automatic watches, such as those in the Omega collection, rely on the natural motion of the wearer's wrist to remain powered. However, if left unworn for extended periods, the watch may stop, leading to the need for resetting the time and date.
A watch winder eliminates this inconvenience by gently rotating the watch, ensuring that it remains in constant motion and accurately wound. Barrington Watch Winders are designed with customisable settings, including turns per day, so you can tailor the winding process to suit your specific Omega watch.
Read more in our blogs Why do I need a watch winder? and What is a watch winder? which covers many questions including what does a watch winder do, and how does a watch winder work?
Watch Winders Suitable for Omega Watches
Investing in an Omega timepiece signifies an appreciation for precision engineering and timeless elegance. To ensure that your cherished Omega watches remain in optimal condition and ready to wear at a moment's notice, a high-quality watch winder is indispensable.
We offer a range of meticulously designed and expertly crafted watch winders, specifically tailored to meet the needs of Omega watch owners. With our commitment to exceptional customer service and convenient shipping options, Barrington Watch Winders is the ideal choice to preserve the accuracy and longevity of your treasured Omega timepieces.
Barrington Watch Winders Features and Benefits
Barrington Omega Watch Winders are a true testament to impeccable aesthetics, making them a captivating choice for watch enthusiasts seeking the perfect blend of style and functionality. The sleek and contemporary design of our winders seamlessly merges elegance with practicality, creating a harmonious balance that complements any watch collection.
Among the remarkable features that set Barrington Watch Winders apart is our near-silent motors. These meticulously designed motors incorporate precision engineering and advanced technology, resulting in whisper-quiet operation. With Barrington Watch Winders, you can indulge in tranquil timekeeping without any disruptive noise, no matter where you choose to place them.
A frequently asked question we often hear from Omega watch owners is 'why isn't my watch staying wound in my winder? When we check the settings they have it on a bi-directional rotation setting. However, as soon as we advise them to change it to mono-directional (i.e. just clockwise or just counter-clockwise) the watch stays wound.
We notice this with many Omega models including Planet Ocean, some Seamasters, Aquaracers etc. that they wind better in mono-directional.
When it comes to purchasing a watch winder for your prized Omega timepieces, convenience is key. Barrington Watch Winders understands this, which is why they offer free shipping on all orders. Whether you reside in the heart of a bustling city or in a remote corner of the world, you can have your chosen watch winder delivered directly to your doorstep, and enjoy the convenience of your watch always ticking.
To view our full range of watch winders click here: https://barringtonwatchwinders.com/collections/watch-winders
If you have any questions relating to Omega Watch Winders, give us a call on 01494 410126 or email us sales@barringtonwatchwinders.com and we will be happy to help.
Time Keeping accuracy
All things watch related
Keep reading for all things watch related...