2 watch winder
Make 4 interest free payments of $124.75
Sales to EU customers are shipped from Germany so no extra taxes are payable upon receipt. Sales to all other countries are shipped from the UK. More info here
Description
Our luxury Barrington Double/Dual Watch Winder has two individually programmable rotors set in a display cabinet with carbon-fibre styling and comes with a full-function remote control. See below for full spec.
All housed in a stylish closed display case measuring 26.5cm/10.5" (H) x 18.5cm/7.25" (D) x 23.5cm/9.25" (W)
This luxury dual watch winder has the following features:
- 2 Individually programmable rotors
- Multi directional winders (CW, CCW or alternately CW/CCW)
- Variable Turns Per Day (650, 750, 850, 1000, 1950) plus a Speed Wind mode to enable you wind a stopped watch
- LED downlighters
- Digital touch screen display including clock
- Built in drawer storage for extra watches
- Remote control
- Ultra quiet motors
- AC mains powered - comes with International adapter with fittings for UK, EU and US plugs (Australian available upon request but not supplied as standard)
Two Watch Winder Information
This stylish 2-watch winder from Barrington presents the ideal solution for winding up to 2 watches at the same time and is presented in an elegant closed display case. Showcasing our usual commitment to quality design and engineering, this 2-watch winder box incorporates a number of luxury features that make it stand out from the crowd.
In common with other models in our automatic watch winder range, each rotor in our 2 watch winder is individually programmable with variable settings (anti-clockwise, clockwise and alternating rotation) and the ability to set the number of turns per day to 650, 750, 850, 1000 or 1950 rotations. Featuring ultra-quiet Japanese motors, a remote control and digital display, the unit is set in a carbon fibre-effect backdrop with LED downlighters and a built-in storage drawer, ideal if you have extra watches to accommodate.
At Barrington we take design and quality seriously and we aim to deliver that in every one of our 2 watch winders. We offer models from the single and dual watch winder up to 12-watch winders, as well as a range of accessories includes repair kits. and watch cases. With free UK mainland delivery, we aim to ship all items within 24 hours and use only reputable couriers such as Royal Mail, MyHermes, UPS and FedEx.
Returns
Your purchase on this website is covered by the Distance Selling Regulations and we will be happy to offer you a refund within 14 days if you are not entirely satisfied. In fact, even if it's outside this window (within reason) we'll take it back and refund you. The bottom line for us is that you're happy with your purchase. You also have a 2 year "Back to base" warranty on your winder. Contact us if you have an issue we have a super technician (John) who can fix almost anything. If John can't fix it, we'll replace it.
How The Winder Works
This winder operates on a basis of gentle rotation to wind watches. Older generation Watch Winders were programmed to be always on (i.e. rotating without a pause) in an effort to wind the watch as quickly as possible. This can lead to over-winding of a watch and potential damage to the main spring. Gentle rotation ensures a consistent movement over a longer period of time that won't over-wind your watch. When initially turned on the rotor turns for 1 minute before pausing. The length of the pause is determined by the Turns Per Day setting (a lower TPD setting will mean a longer pause and vice versa) and once it is completed the rotor turns again for just 1 minute. This cycle continues silently for 12 hours, then rests for 12 hours, before beginning again and so on until the winder is turned off.
Delivery
UK SHIPPING COSTS
We aim to ship all items within 1 working day of receiving them.
Our free shipping service to the UK is typically with MyHermes and takes 2-3 days (we find 90% of orders are delivered within 2 days) but in theory they say it can take up to 5 days and they do deliver on weekends as well. Orders received before 12pm Monday to Friday will usually go out that same day.
Our Express shipping option charges an extra fee of £9.95-12.95 for the UK (depending on the winder ordered and more for the large safe) and usually ships with UPS. Orders received before 12pm Monday-Friday will usually go out that day for delivery the next day but they only deliver Monday to Friday. Call us if you are unsure and need the winder by a specific date and we will advise you of the best option. If you have any problem with a delivery, please email us on sales@barringtonwatchwinders.com or call us on 01494 410126.
REST OF WORLD SHIPPING COSTS
Shipping outside the UK costs £14.95-29.95 for standard courier and £29.95-49.95 for express courier.
Shipping times vary depending on the country we are shipping to but we will try to indicate expected delivery date at the time of shipping.
An innovative company that's has an eye for design and edge for silent winder technology. What more could one want? Their pre-sales and aftercare customer support just makes you feel proud to own a winder from a company that cares about its customers. Now I just need to buy another automatic watch before I can buy another Barrington!
Jon Grayson
★★★★★
Their customer service is brilliant as they did their utmost to source and deliver a Barrington 2 watch winder in time for our 20th wedding anniversary. The Barrington watch winder keeps the accurate time and motion of each of husband's watches for days and weeks at a time. It not only looks good but has brilliant features. It's a brilliant, classic and practical purchase my husband loves it!!
Rosemond Brown
★★★★★
I found the entire buying process with Barrington to be excellent. The sales advisor (Sean O'Farrell) was very professional and when I explained that I wasn't in a position to purchase the dual winder I wanted until I had sold my old Buben & Zorweg winder he offered me a very fair price for my old winder which he explained Barrington wanted to take apart as part of there ongoing mechanical research.
Stephen Oakes
★★★★★
I emailed Barrington with a question and got the reply I wanted which enabled me to purchase my Barrington watch winder. Would certainly use again, in fact this is my 2nd watch winder from Barrington!
Nicholas Sarraf
★★★★★
Just received my Midnight Blue single winder, very pleased exceeded expectations looks super and silent. Great company to deal with, prompt, well packaged and my queries had a very quick response. Recommend highly.
Steve Albert
★★★★★
I am absolutely delighted with my Barrington double watch winder, it surpassed my expectations. The finish is excellent and it's so quiet I don't worry about it working at night, even though it's on my bedside cabinet. I have already recommended them to several friends and will continue to do so. Simply superb.
J Gore
★★★★★
I purchased my first Barrington watch winder 24 months ago it has worked perfectly, and does the job well without having to pay out silly money, hence the reason for now purchasing a second one, I think a great looking product for a good price, and highly recommended. Thank you
Peter Quiller
★★★★★
Excellent service. I ordered over the phone and it was delivered in a few days as expected. It was a gift for my husband and he was delighted. It does exactly what it's supposed to and looks very stylish.
B Brampton
★★★★★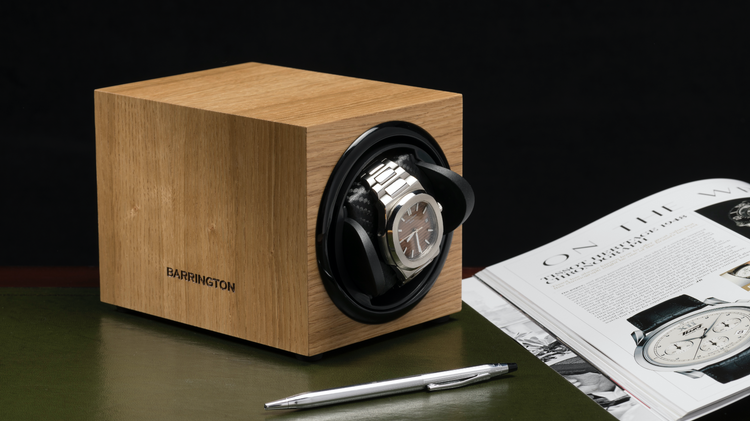 Is my Watch Compatible?
DIMENSIONS
Our winders are suitable for all automatic watches
Barrington watch winders are suitable to wind any automatic watch such as Rolex, Omega, Tag Heuer, Breitling, Cartier, Jaeger le Coultre, Patek Phillippe, Zenith, Tudor, Panerai, Oris and so on. Our signature 'Gentle rotation' method ensures the watch is optimally cared for while being wound.
Choice of cushions: either Standard (suitable for watches with a strap/bracelet circumference of 19cm to 24cm) or Flex (suitable for watches with a strap/bracelet circumference of 14cm to 20cm) NB The standard cushion suits approx 70% of our customers and Flex is preferred if wrist size is slightly smaller
Really smart looking and like the option of individual programming. The watch drawer is a nice touch also. It's quiet - don't hear it in my bedroom. Recommended.
This is an excellent winder. Very quiet.