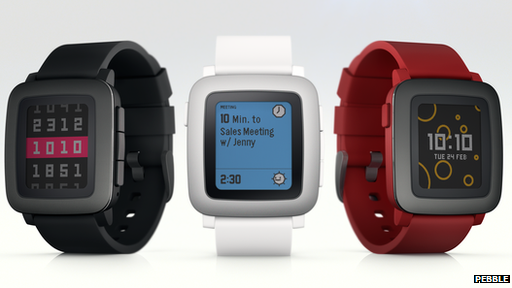 Winder Wonder #22: Jetpacks & Smartwatches
Back to Barrington Watch Winders Blog
Welcome back to your fortnightly Winder Wonder technology update. This fortnight get ready for Pebble's new smartwatch: Pebble Time, find out more about how IBM and ARM are connecting offline devices to the Internet of Things and take a look at a real life jetpack in action...
Pebble Crowdfunds New Smartwatch
Image source
Pebble have headed back to Kickstarter in a bid to fund their second smartwatch, Pebble Time. This new device may not look great in an automatic watch winder, but its list of predicted functions looks pretty impressive, including a full colour e ink display, a microphone and 7 whole days of battery life. The original crowdfunded Pebble watch (which raised £6.4 million to get going) sold well, with 1 million Pebble watches already on tech-savvy wrists. Will its second generation device prove just as popular? Have your say in the comments section below...
ARM & IBM Release IoT Starter Kit
Image source
It may sound like a whole bunch of acronyms to a layperson, but ARM and IBM's release of an IoT starter kit is exciting news for technologically aware individuals all over the world. The new starter kit will give businesses the opportunity to integrate their offline devices with the Internet of Things within 5 minutes. Of course, the fine-tuning will take a little longer, but the whole project has been put together to encourage firms to get more involved with getting their devices connected to the web. The kit contains a a pre-configured microcontroller development board as well as a sensor expansion board with equipment including: • thermometer to measure temperature • an accelerator to measure motion • two potentiometers (rotating dimmer knobs) • a buzzer • a small joystick • an LED light with three colours • a rectangle black-and-white LCD display Which offline gadget would you most like to see integrated with the IoT? What about your watchwinder? Share your ideas below!
Will You Be Jetpacking to Work in 2016?
We don't know about you, but the Barringtons team have been waiting decades for technology to reach a point where personal jetpacks become a reality. And it appears that the wait may finally be over! New Zealand based Martin Aircraft Company have created a marvellous machine which can fly up to 250m above the ground at speeds up to 70kmph. Slated for use by the emergency services in 2016, surely it's only a matter of time before we're really, really looking forward to the morning commute... Would you give the Martin jetpack a go? Which devices would you like to see connected to the IoT? Share your opinions below...
Interested in an elegant way to care for your automatic watches? Browse our selection of watch winders, designed to keep your timepieces running smoothly and accurately.
Our watch winders are a practical and stylish solution for watch enthusiasts and collectors alike. Find the right one for your needs and elevate your watch care experience.
Visit our collection here.
Discover the difference a quality watch winder can make today.
Time Keeping accuracy
All things watch related
Keep reading for all things watch related...