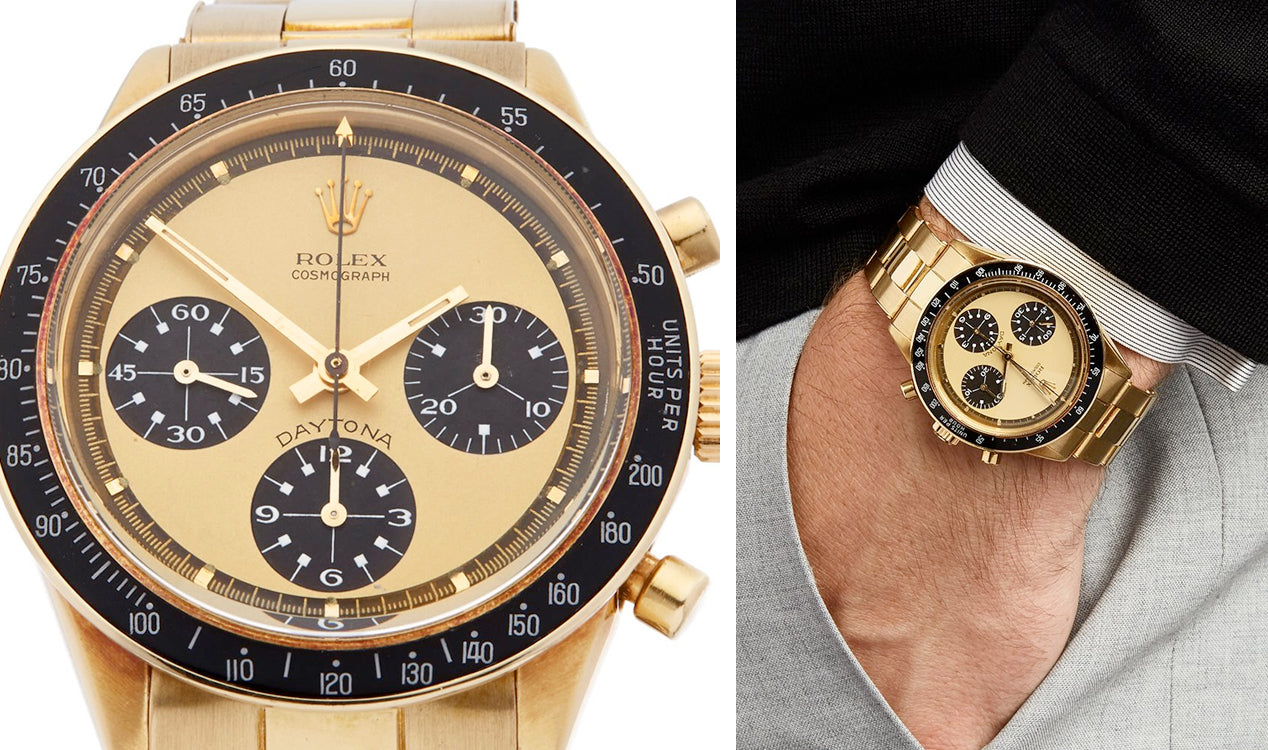 The Ultra-Rare Rolex 'Paul Newman' Daytona is on Sale for £1 million
Back to Barrington Watch Winders Blog
Currently on sale at Xupes, the Rolex 'Paul Newman' Daytona features a peculiar lemon dial face and a solid gold bracelet. The price? $1.3 million (£1,018,134).
Rolex Daytona 18K Gold on Xupes
With only a few in circulation, the Yellow Gold Daytona's were made in short supply in comparison to the more common steel models. Even more so, the lemon dial face can't be commonly bought or found despite searches. If you like a bit of history behind the Daytona's, then you'll know that they weren't very popular at all. Exceeded by the popularity of Submariners and Datejusts. It took the famous actor Paul Newman to bring the demand. "Nicknamed by Rolex collectors after the legendary actor and motorsports enthusiast, the Paul Newman Daytona is one of the most illustrious and sought-after vintage watches of all time. The lemon dial colour and pump pusher combination is what makes this version so special. It is only the fifth known example of its kind to come to market." - Xupes
With a growing interest in Daytonas from the year 2000 to 2013 (A price increase of 981%), a couple of similar Daytonas have gone on sale for extraordinary prices. Both with the lemon dial and a leather strap for $734,000 at Sotheby's this April and for $871,500 at Christie's last year. These however haven't included the ultra-rare solid gold bracelets.
Interested in an elegant way to care for your automatic watches? Browse our selection of watch winders, designed to keep your timepieces running smoothly and accurately.
Our watch winders are a practical and stylish solution for watch enthusiasts and collectors alike. Find the right one for your needs and elevate your watch care experience.
Visit our collection here.
Discover the difference a quality watch winder can make today.
Time Keeping accuracy
All things watch related
Keep reading for all things watch related...