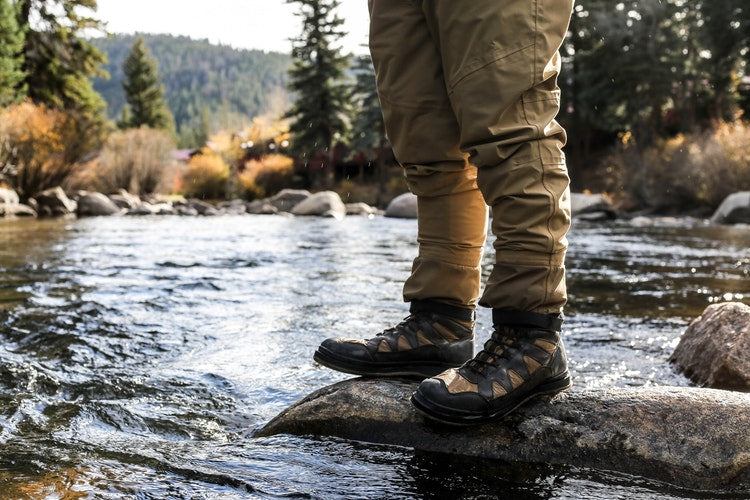 5 of the Best Men's Hiking Boots for Going Places
Back to Barrington Watch Winders Blog
Are you going places? Make sure you get there in comfort, with a pair of hiking boots which help you take any terrain in your stride. If you've ever hiked in an ill-fitting pair of boots which aren't up to the challenge you've throw at them, you'll know the pair of bad boots. Blisters, soggy toes, burning arches, shaven ankle bones, cramped toes – you name it, it's going to happen.
That's why investing in a good pair of hiking boots which feel fantastic on your feet is so important, especially if you have some serious goals to attain! Our feet are pretty idiosyncratic. Everybody's different, whether you're a pronator, have wide feet, high arches – you name it. So it stands to reason that "one size doesn't fit all" when it comes to hiking boots. In fact, the only real way to make sure you get your perfect fit is to try on options in store (even if you buy them cheaper online later!). To kickstart your search for your perfect hiking boot, we've rounded up some of the top contenders currently on the market...
1. Renegade GTA (Mid), LOWA (£170.00)
LOWA's Renegade hiking boot is a real best-seller, and it's really earned its popularity. Not to hefty, not to flimsy, this boot occupies that "Goldilocks sweet spot" between clunkiness and sturdiness. Ideal for tackling really varied terrain, this boot offers the perfect amount of stability without forcing you to undergo that painful "breaking in" phase. Comfy stuff.
2. Aku Alterra Gore-Tex, Aku (£199.00)
If you like your footwear to look good, even when you're way out in the wilderness, these Italian made Alterra hiking boots might be for you. Their European good looks conceal high-performance features including high, supportive yet flexible ankles, waterproof Gore-Tex, and a sturdiness you wouldn't expect from a boot which feels this soft and comfortable.
3. Salomon Quest 4D 3 GTX (£185.00)
Hyped up all over the internet, this Salomon Quest men's hiking boot has a fearsome reputation as a top notch piece of kit. Billed as the "Land Rover Discovery" of hiking boots, these stompers are solidly made yet impressively breathable, feeling lightweight on your feet while offering pretty unbelievable tractions. Definitely worth a go!
4. Merrell All Out Blaze 2 Mid Gore-Tex (£145.00)
Don't let this hiking boot's understated good looks fool you, these bad boys can go the distance on all terrains. Fantastic all-rounders, the air cushioned soles are a massive selling point here, keeping your feet comfortable for longer and feeling especially good for anyone who suffers from arch pain.
5. Madson Waterproof Hiking Boot, Sorel (£170.00)
Do you prefer that traditional hiking boot look? This pair from Ontarian-based brand Sorel will tick that box for you – no problem! We're always going to trust a Canadian walking boot, and these are no exception. Superbly crafted with chunky, grippy soles and a comfy removable inner made from EVA and memory foam, these boots look old school but are packed with modern, lightweight features. What's your perfect pair of hiking boots? What's been your worst hiking boot experience? Share your stories with other adventurous sorts below.
Interested in an elegant way to care for your automatic watches? Browse our selection of watch winders, designed to keep your timepieces running smoothly and accurately.
Our watch winders are a practical and stylish solution for watch enthusiasts and collectors alike. Find the right one for your needs and elevate your watch care experience.
Visit our collection here.
Discover the difference a quality watch winder can make today.
Time Keeping accuracy
All things watch related
Keep reading for all things watch related...