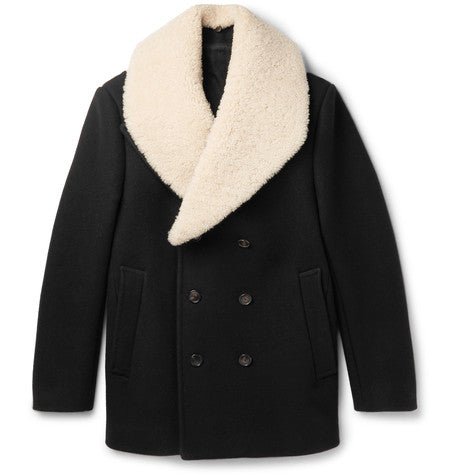 5 Men's Winter Coats to Keep You Warm in 2017
Back to Barrington Watch Winders Blog
Winter is coming. December may be done, but that doesn't mean that the cold spell is over, oh no sir! In fact its barely begun. Today the Barrington's Watchwinder team are stepping out of their man caves to try on some of the best men's outerwear for 2017. If you intend to start the New Year both snugly and stylishly, you could do far worse than picking up one of these beauties...
1. Technical Coat - Zara
Pleasingly contemporary, this precise-feeling khaki coat from Zara feels effortlessly stylish thanks to its sharp angles and asymmetric design. Throw on over pretty much anything for instant cool.
2. Checked Double Breasted Coat – Ted Baker
Impeccable lines and an unfussy suaveness make this vintage-hinting double breasted wool number in a large yet understated check an easy winner for a wide range of occasions, from the commute to important functions.
3. Nicholson Shearling-Trimmed Virgin Wool Peacoat – Kent & Curwen
A contemporary luxe finish with the historic charm of the peacoat, this seriously cosy Italian-made investment piece features soft black virgin wool and detachable shearling shawl collar. Don't mind if we do...
4. Zip Detail Hooded Coat – Letasca
For a more versatile and casual option this season, this leather zipped coat from Letasca ticks plenty of boxes. Warm, on-trend, easy-to-wear, low maintenance and understatedly stylish. We like it a lot.
5. Rix Jacket - Castore
Keen to stay active over the chillier months? This genius piece of engineering from professional footballing and cricketing brothers is incredibly lightweight and breathable – ideal for keeping you warm and dry but not sweaty or overheated. Clever stuff.
Are you on a hunt for a coat in the January sales? What is your favourite look this season? Have your say and share your finds below.
Interested in an elegant way to care for your automatic watches? Browse our selection of watch winders, designed to keep your timepieces running smoothly and accurately.
Our watch winders are a practical and stylish solution for watch enthusiasts and collectors alike. Find the right one for your needs and elevate your watch care experience.
Visit our collection here.
Discover the difference a quality watch winder can make today.
Time Keeping accuracy
All things watch related
Keep reading for all things watch related...