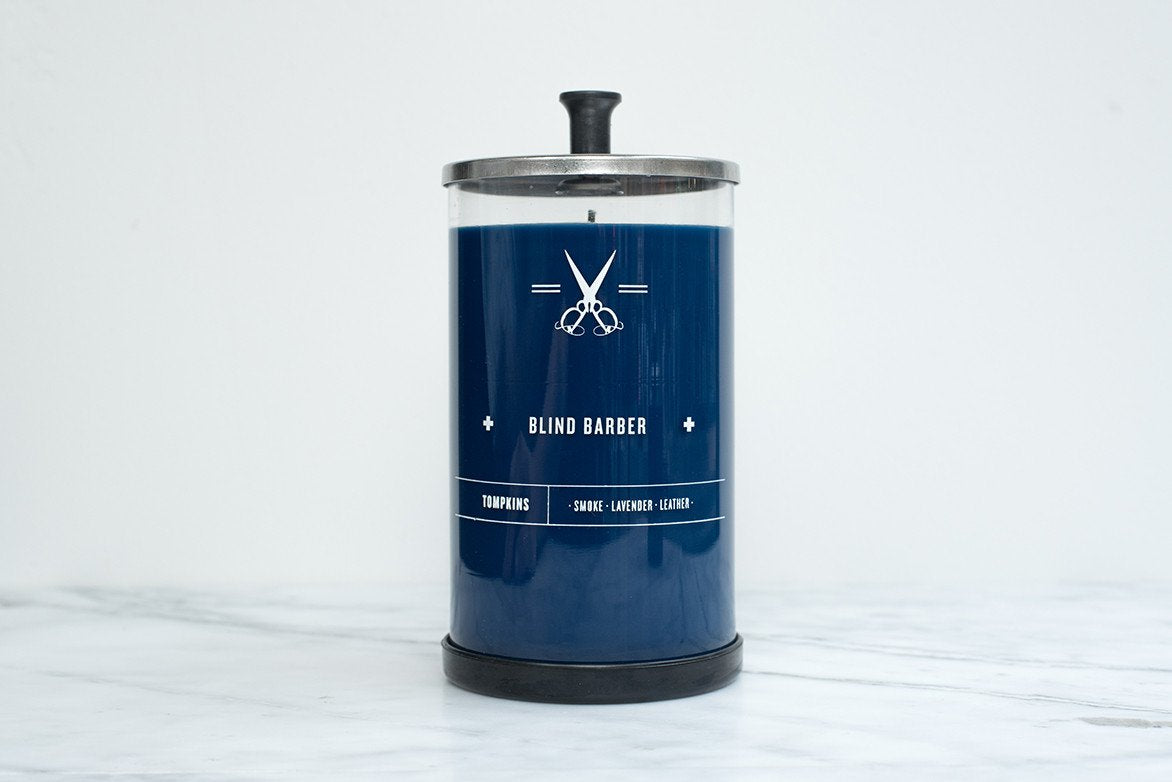 The Best Candles For Men – The Manly Scents For Home
Back to Barrington Watch Winders Blog
A manly candle isn't really a thing let's be honest, but there is something 'manly' about the scent of wood and tobacco that most candles just don't have. We get it, you're building a man cave. You've set up a nice leather sofa, you've got a surround sound speaker system and a 4K TV with your Playstation plugged in. Your man cave really does look the part, and we congratulate you for it, but you now want it to smell the part. The best way you can truly immerse yourself in all things 'manly' is with scented candles. A brightly coloured Yankee Candle with Spiced Orange just won't do it and lucky for you there's plenty of candles on the market that fit your criteria:
---
Blind Barber Tompkins Scented Candles
Ever walked into a barbershop and thought 'smells like fresh clean towels'? Tompkins Scented Candles from the Blind Barber smell exactly like that. These hand poured candles are made in New York and have an East Village Barber Shop whiff to them. Blind Barber uses a scented mix of leather, lavendar and smoke inside a traditional jar to take you back to the days of straight razors. Short back and sides please.
BUY NOW FROM BLIND BARBER
---
Black Oudh from Rituals
Luxuriously sealed and packaged, the Black Oudh from Rituals' private collection is the perfect gift for him. Making use warm oriental woody fragrance, it's a candle for the most prestigious man caves, made from 70% natural wax. If you haven't been able to tell by the name, it's based on a perfume for men which makes use of fresh aromatic top notes and an earthy base. The candle lasts up to 60 hours (which is enough for any of us), so you can enjoy it throughout your evening in comfort. BUY NOW FROM RITUALS
---
Under Milk Wood from Tom Daxon
Enhanced with amber and suede, these Under Milk Wood candles are crafted by British legendary perfumer; Tom Daxon (surprise surprise). Tom Daxon is well-known for making some of the most exquisite new scents on the market from a young age, and has help from influences in Molton Brown and Chanel. The Under Milk Wood comes with hints of cedarwood and gaiac wood. The candle will last up to 40 hours and is handmade in England.
BUY NOW FROM TOM DAXON
---
Bohemia by Byredo
Looking for something a little sweeter? Mixed with rum, geranium and rosemary, the Bohemia candle from Byredo will make your man cave just a little more luscious. Injections of vanilla and saffron add some sweet spice to your home. A great choice for those who don't want the usual earthy scents. The brand states that the candle is inspired by travel, from long caravan trips to an endless celebration of life. BUY NOW FROM BYREDO
Interested in an elegant way to care for your automatic watches? Browse our selection of watch winders, designed to keep your timepieces running smoothly and accurately.
Our watch winders are a practical and stylish solution for watch enthusiasts and collectors alike. Find the right one for your needs and elevate your watch care experience.
Visit our collection here.
Discover the difference a quality watch winder can make today.
Time Keeping accuracy
All things watch related
Keep reading for all things watch related...