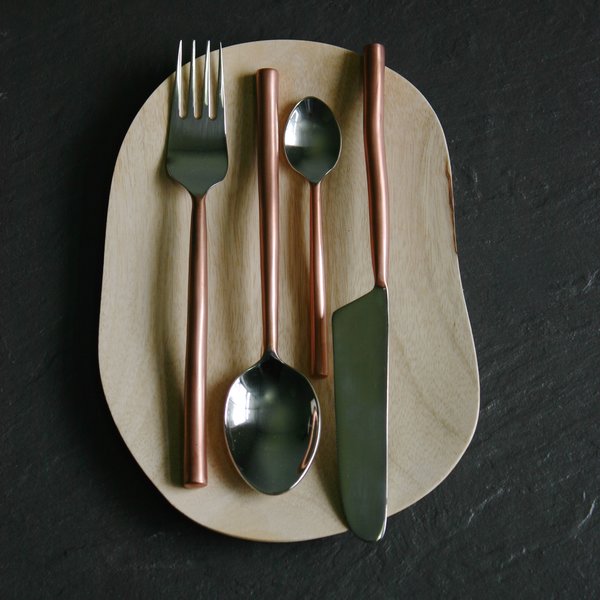 5 of the Best...Luxury Cutlery Sets
Back to Barrington Watch Winders Blog
Are you the host with the most? If so, we're willing to bet that welcoming guests to your man pad for dinner is a real pleasure for you. With summer in full swing, it's the perfect time to get your favourite people together and to show them your hosting "tekkers", whether you have a culinary streak or have something amazing ordered. To help make the evening extra special, we've rounded up five amazing luxury cutlery sets which will give your dinner that extra "wow" factor. Time to roll up your sleeves, pop your timepiece into its Barrington's single watchwinder, relax and enjoy a wonderful evening and excellent conversation.
1. Goa Cutlery Set by Cutipol via Amara (£321.00)
Stainless steel and matte white gold combine to create these fiercely modern and elegantly contemporary pieces, designed with perfect balance and effortless eye-catching style.
2. Black Titanium Cutlery Set by Viners via NuCasa (£79.99)
Sleek simplicity which we can't believe we haven't seen more frequently, this striking black titanium cutlery set makes a strong impact and looks fantastic.
3. Violet Gocce Two-Tone Cutlery by Guzzini via Dot Maison (£87.96)
A pop of summery colour is perfect for stylish dining this season, especially if your "man cave" has an outdoor area. Guzzini offer a wide range of colours and even a multi-coloured set for the more exuberantly inclined.
4. Copper Cutlery Set by The Living Lounge (£32 per 4 piece set)
Modern, elegant, rustic, rugged – we love how The Living Lounge have really brought out the beauty in their materials to create their striking cutlery.
5. Matte Gold Cutlery Set by The Cutlery Commission (£21 per 4 piece set)
Perfectly balanced and traditional in form, these sleek pieces are brought right up to date by their matte gold finish. Which is your favourite cutlery style from our list? Are you entertaining this summer? Which recipes will you be giving a go? Share your opinions and your favourites with other readers below.
Interested in an elegant way to care for your automatic watches? Browse our selection of watch winders, designed to keep your timepieces running smoothly and accurately.
Our watch winders are a practical and stylish solution for watch enthusiasts and collectors alike. Find the right one for your needs and elevate your watch care experience.
Visit our collection here.
Discover the difference a quality watch winder can make today.
Time Keeping accuracy
All things watch related
Keep reading for all things watch related...