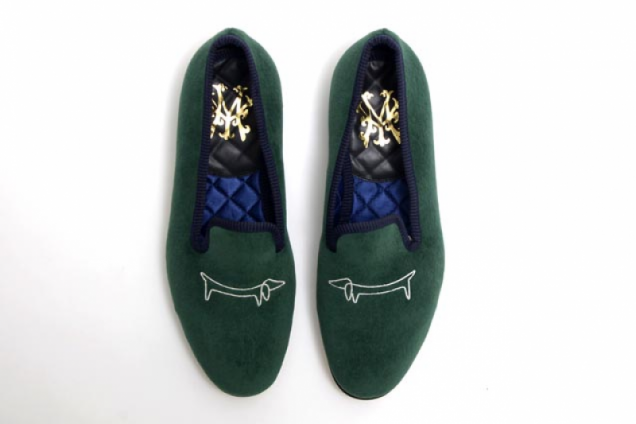 5 of the Best...Decadent Slippers for Men
Back to Barrington Watch Winders Blog
Earlier this month we shared a selection of some very fine
dressing gowns for debonair gentlemen
, this week we've scoured the finest retailers for decadent slippers to match. If you like to enjoy your own personal man cave dressed like an elegant James Bond super-villain, this selection of definitely indulgent footwear is for you. Time to put the scotch on the rocks, your timepiece in its
watchwinder box
and your feet well and truly up...
Image Source
Exclusive slippers from a high end British brand. With leather trim and sumptuous moss green cord, these slippers are stylish but not try hard, classic but more than a little contemporary, practical but absolutely indulgent. If you're looking for something with more quirk, New & Lingwood also stock velvet slippers embroidered with skulls and crossbones. 2.
Leather Slipper, Marsèll (£445.00)
Image Source
Prefer your slippers a little more understated? These luxury leather slip ons have more than a little grit, executed in sublimely soft leather, for slippers that are anything but fuddy duddy.
Image Source
The craftsmanship which has gone into these stunning leather slippers is mind-blowing. Meticulously made in Italy, with smooth inners and an immaculate silhouette, these slip ons offer true luxury to the reclining gentleman.
Image Source
A slightly kooky item of clothing by today's standards, slippers are the perfect accessory for introducing a slightly quirky element – it's all part of the charm. These delightful, abstract dachshunds are the perfect accompaniment to this rich green velvet slipper.
Classic decadence is available in the form of these handmade, quilted, royal blue slippers from purveyors of fine, slip on footwear, Duke & Dexter. Made from beautiful brush velvet and embellished with sublime cross-stitching, these are true quilted beauties. Are you a slipper man? Are you from the luxurious school of thought, or is comfort your number one slipper wearing priority? Let us know below.
Interested in an elegant way to care for your automatic watches? Browse our selection of watch winders, designed to keep your timepieces running smoothly and accurately.
Our watch winders are a practical and stylish solution for watch enthusiasts and collectors alike. Find the right one for your needs and elevate your watch care experience.
Visit our collection here.
Discover the difference a quality watch winder can make today.
Time Keeping accuracy
All things watch related
Keep reading for all things watch related...