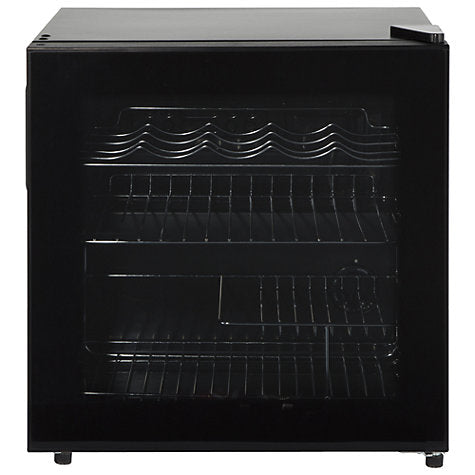 5 Cool Mini Fridges for Your Man Cave
Back to Barrington Watch Winders Blog
No well stocked man cave would be complete without a mini fridge for beers, snacks and ice. After a long, hard day at the grindstone, after you've clocked off and put your watch safely into its
single watchwinder
, the last thing you want is to go all the way to the kitchen in order to access a cold one. To ensure you and your guests have instant access to your hard-earned treats, we've scoured the web to find the best mini fridges in the business. Here are five of our favourites currently on the market.
1. Smeg FAB5LNE 50's Style Minibar Cooler Fridge (£629.00)
Sleek and stylish, this high quality option from Smeg has a retro American feel and plenty of capacity. Measuring 73 x 40.4 x 52cm, this mini fridge isn't the smallest you'll find, but does boast lots of room for cold storage and impressively low noise levels too.
2. SMEG FAB10RO Mini Fridge - Orange (£665.00)
Prefer your white goods with a bit more zing? Just like the sleek black model above, this slightly larger (and much bolder) mini fridge is very quiet with plenty of space, helpful extras and great energy efficiency.
3. Summit SCFU1330FROST (£ on enquiry)
There are few things in this world which look more tantalising than an icy fridge full of cold beer. This model from Summit is tall, slim and elegantly designed to allow you to drink in your stash with your eyes.
4. nipi Cooler (£TBC)
Set for release very soon, the nipi cooler is the solar powered mini fridge for adventurous man cave dwellers. Leave it a home to keep your treat cold, or take this all terrain fridge on the road, complete with gadget charging station.
5. Lec DF50B Wine and Beer Fridge (£130.00)
A smaller, more affordable mini fridge for those with simpler needs. Petite and elegant, this beauty will chill up to 16 bottles of wine and a dozen cans of beer. Handy, that! Do you have a mini fridge in your man cave? Was it a worthwhile investment? Which models would you recommend? Have your say below.
Interested in an elegant way to care for your automatic watches? Browse our selection of watch winders, designed to keep your timepieces running smoothly and accurately.
Our watch winders are a practical and stylish solution for watch enthusiasts and collectors alike. Find the right one for your needs and elevate your watch care experience.
Visit our collection here.
Discover the difference a quality watch winder can make today.
Time Keeping accuracy
All things watch related
Keep reading for all things watch related...