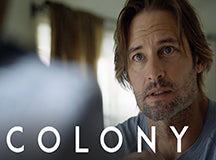 3 New TV Series to Stream in Your Man Cave in 2016
Back to Barrington Watch Winders Blog
If you're opting out of the usual "get fit" and "be healthy" New Year's resolutions, you're in luck: 2016 is a great year to get in some quality time on the couch. 2015 was a bumper year for TV, and it seems like the "TV series" is a medium now well and truly on the rise, spurred on by the advent of streaming and services like Netflix. This means that there's a wealth of good quality programming coming to a TV screen in your man cave very soon. Time to hunker down, ignore your mate's new fitness regime and enjoy a great new series. Here are 3 to watch out for, hand-picked by our telly-addicted
watchwinder
experts...
1. Colony
Premiering in the US on 12
th
January, this is a story from respected screenwriter Carlton Cuse which follows the story of a LA family desperate to escape the mysterious force which has occupied the city and placed it under martial law. Pacey, inventive and tense, this is a series worth a look.
2. 3%
3% (also known as 3 por cento) will be Netflix's first Brazilian series order. Directed by Cesar Charlone, a cinematographer for the iconic film "City of God," this is another dystopian story which explores a world divided into a realm of destruction and one of progress – where an intense selection process will see just 3% make it through.
3. Baskets
Do you love Louie C K? Then new TV comedy Baskets needs to be on your 2016 watch list. Airing in the States on 21st January, this light comedy co-written by CK, plunges you into the world of a man who dreams of becoming a professional clown. Prepare for silliness – with a touch of sophistication. (But not too much.) Which new TV series are you looking forward to in 2016? Which old favourites can you not wait to air again? Have your say and share your picks with other TV lovers below.
Interested in an elegant way to care for your automatic watches? Browse our selection of watch winders, designed to keep your timepieces running smoothly and accurately.
Our watch winders are a practical and stylish solution for watch enthusiasts and collectors alike. Find the right one for your needs and elevate your watch care experience.
Visit our collection here.
Discover the difference a quality watch winder can make today.
Time Keeping accuracy
All things watch related
Keep reading for all things watch related...